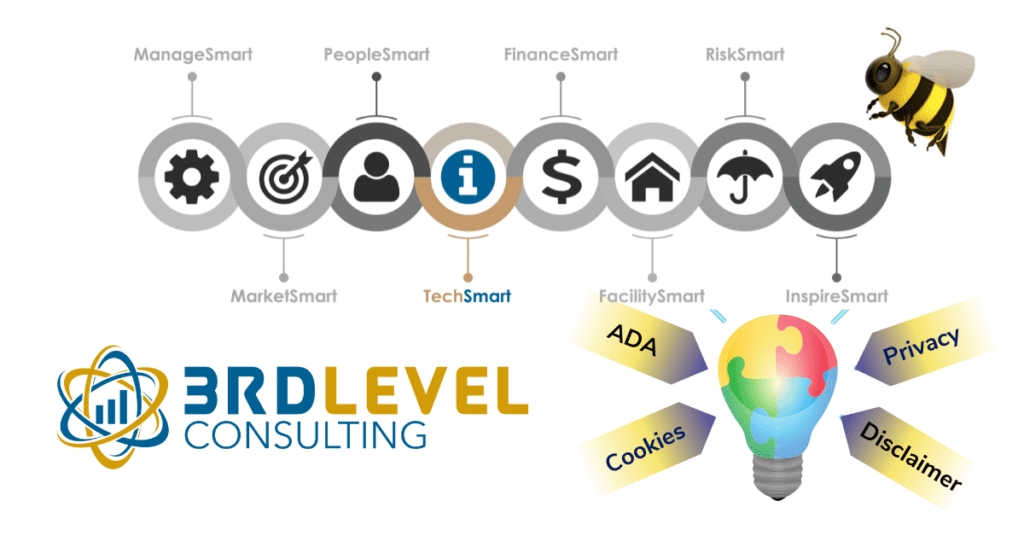 Are You Compliant? Important Rules and Regulations to Review for your Website
Can you answer these 3 questions?
Is your website compliant with the latest regulations for privacy, consent & cookies?
Does your website meet the requirements of ADA Compliance?
Did your last WCAG (Web Content Accessibility Guidelines) audit reflect compliance?
If you answered either "No" or "I don't know" to any of those questions, check out our Compliance Webinar for important information on getting your website compliant.
Often times, websites are set up by an acquaintance, a friend of a friend or someone who may be doing web design as a hobby.  Whether your website was set up informally or by an experienced agency, understanding compliance is YOUR company's responsibility.  This article is designed to provide some of the key compliance rules and regulations as of 2022.  Keep in mind, as the business owner, ultimately, you are responsible. Verifying compliance in all aspects of your business with a legal expert is best practice.  In our constantly changing world, rules and regulations can change by the minute so it's important to maintain a team of experts to reduce your risk by staying informed or to help you comply with legislation (and therefore reduce your risk) personally and in all areas of your business.
"Alone we can do so little; together we can do so much."
~Helen Keller
Pop Quiz:
What happened in 2018 that dramatically changed ADA?
What happened in 2022 regarding accessibility requirements for websites?
If you aren't sure, you don't need to search the web to find the answers.
In 2018, President George W. Bush signed major changes to the ADA into law. The biggest change involved the definition of a disability. The original ADA defined a person with a disability as someone who has a condition that "substantially limits major life activities." Under the 2018 amendment, "major life activity" was redefined to include daily activities like caring for oneself or performing manual operations, and it was extended to include impairments to major bodily functions like digestive and respiratory functions, and neurological impairments.
In 2022, the Department of Justice released new guidance on implementing web accessibility standards and practices, clarifying that the ADA indeed covers web accessibility. Today, U.S. courts apply ADA accessibility requirements to the internet, meaning websites must comply with ADA rules.
In addition to accessibility, companies are responsible for observing & following all laws and regulations applicable to websites – including but not limited to: Privacy, Accessibility, Cookies, Copyrights, Legal Disclaimers, etc.
According to Termly, if you're building (or have) a website, you need to be aware of the following website laws & regulations:
Data Privacy & Collection Requirements (GCPR, CCPA, etc.)
Cookie Requirements (GDPR, ePrivacy, etc.)
Data Security Requirements
Accessibility Requirements (ADA, WCAG, etc.)
Ecommerce Security
Copyright and Plagiarism Requirements
Content Licensing and Attribution
Anti-Spam Laws
Disclaimers
Web accessibility is a set of rules, behaviors, code standards and design guidelines, that are meant to allow people with disabilities to effectively use websites.
More about the Americans with Disabilities Act (ADA)
The Americans with Disabilities Act (ADA) is the United States' most important law regarding accessibility and civil rights for people with disabilities. Signed into law in 1990, the ADA prohibits discrimination against anyone based on ability or disability. It came to fruition after a 2-year campaign to advance civil rights to marginalized groups, where disability activists lobbied for laws prohibiting discrimination. The ADA draws on the precedent set by Section 504 of the Rehabilitation Act, which guarantees rights to people with disabilities in the government sector.
What does the ADA cover now?
The ADA is a broad piece of legislation covering many aspects of accessibility for people with disabilities. The part of the ADA that affects how businesses serve customers is called the "ADA Title III." The ADA Title III covers public areas and accommodations which apply to businesses, restaurants, hotels, theaters, doctors' offices, libraries, parks, and almost every other place of work.
The ADA highlights two primary requirements:
Employers have to make accommodations for employees with disabilities to be able to do their jobs, including disability-friendly entrances, disability-friendly bathrooms, and the right kind of chairs, desks, and office equipment.
Businesses of all types have to make it possible for customers with disabilities to access their services, requiring them to make modifications to their premises like wheelchair ramps, accessible bathrooms, American Sign Language (ASL) interpretations, and accommodation for service animals.
Who needs to be ADA compliant?
Almost all types and all sizes of businesses have to comply with ADA legislation, for their customers and employees.  Always verify the current legislation directly with the www.ada.gov site or a legal professional versed in compliance. The ADA affects places of entertainment, restaurants, large enterprises, small to medium businesses, retail stores, government offices, employment agencies and yes, Child Activity Centers and more.
How does the ADA affect websites?
As the internet and websites played a bigger role in how consumers interact with businesses, the way that the ADA applied to web accessibility changed.
In 2017, a clear consensus emerged that the ADA also covers the online world. Disability rights activists, legal scholars, and court rulings have agreed that websites, internet portals, and online stores need to be accessible for people with disabilities. In September 2018, Assistant Attorney General Stephen Boyd wrote an official letter to members of Congress explaining it's mandatory that "goods, services, privileges, or activities provided by places of public accommodation be equally accessible to people with disabilities."
As of the writing of this blog, U.S. courts apply ADA accessibility requirements to the internet, meaning websites should comply with ADA rules. Reinforcement was displayed by the Department of Justice in 2022 when it released a new guidance on implementing web accessibility standards and practices, clarifying that the ADA indeed covers web accessibility.
Impact of ADA on ROI
Christie Copeland of Champion's Choice Consulting is an affiliate for 3LC, accessiBe and Complianz.io – purchases from these companies can result in financial compensation to said consultant. Always do your own due diligence and use your own judgment when making buying decisions and investments in your business.
According to the most recent statistics from the CDC, more than 60 million (or 26% of) American adults live with a disability – ranging from a mobility issue to an inability to see or hear well. Of the 60 million, approximately 35% are of working age. The U.S. Office of Disability Employment Policy (ODEP) noted that people with disabilities are "the third largest market segment in the United States" (ODEP, 2012). That market size more than doubles when considering family members, caregivers, and others who prioritize goods and services that are inclusive of people with disabilities.
In "A Hidden Market: The Purchasing Power of Working-Age Adults With Disabilities" by air.org, the total % of disposable income within this community may seem small at 5-8%, but that represents about $490 billion dollars which isn't including the impact on friends and family who support businesses who create a feeling of belonging.  Businesses that are inclusive are 33% more likely to be industry leaders (Forbes).  Providing an experience on-line and in-person at your facility where everyone feels welcome can take your business to new heights.
"When a website uses accessiBe (an automated web accessibility solution powered by AI), I can easily read whatever I want, access or interact with, and buy whatever I need with no problem whatsoever"
~ Sisi Finegold – Blind User
Research amongst several sources states that up to 75% of those with a disability who interact on a website that has accessibility issues discontinue their interaction / transaction with that business.  This constitutes a large percent of the population whose needs are oftentimes not met during an online commerce experience, causing businesses to lose out on revenue.
If being welcoming and increasing revenue are not motivation enough, the risk of being sued for non-compliance is rising. ADA title III-related lawsuits have skyrocketed. There were at least 11,452 federal filings in 2021, which is a 320% increase over a short, eight-year period. And, as of 2020, 265,000 demand letters were sent to businesses that operated inaccessible websites. Currently, in the United States, ADA Title lll requires the defendant to automatically pay the plaintiff's legal fees. 85% of ADA lawsuits in federal and state courts during 2018 were filed against small and medium-sized retail businesses. Since it's almost inevitable that the court would find in favor of the plaintiff, small business owners feel that they must settle out of court. The cost of defending a lawsuit could destroy even a medium-sized business as the average ADA website lawsuit settlement comes to $35,000.  (source: accessiBe)
Taking the time to make your website accessible and compliant is well worth the minimal investment!
How Can You Check Your Website Accessibility & Compliance?
Christie Copeland, an affiliate consultant with 3LC, and co-author of this blog has been researching the steps you need to take to make your website accessible & compliant. See the LEAP! Learning Website as an example. CLICK HERE to set up a meeting.
Accessibility
The DOJ has frequently referenced the Web Content Accessibility Guidelines (WCAG) 2.0 Level AA as the goal for website accessibility, even though this isn't codified into law. At the moment, WCAG 2.1 is the best measure of web accessibility when it comes to federal law, and it's unlikely that a WCAG 2.1 Level AA compliant website would be sued for inaccessibility. (source: accessiBe)
Test your website's accessibility HERE by clicking on the FREE AUDIT link in the upper right corner of the screen.
As of this writing, your goal should be to be WCAG 2.1 compliant.
Other Compliance
Keep in mind, we primarily touched on the rulings regarding website accessibility compliance with respect to disabilities.  Compliance comes in many forms.  Using a plug-in, like complianz.io can keep your website up-to-date for the majority of the requirements with respect to privacy, cookies, disclaimers, etc.  Always, do your due diligence on what is required of your business both physically and virtually.
At 3rd Level Consulting, we are here to help.
If you would like to review these or any other topics related to your business, just click here to connect with one of our specialists. 
Making the effort to create a welcoming website that is accessible and compliant will boost your brand's reputation and will open your consumer base to more individuals.  Being inclusive and accessible means better relationships with your customers and the community!
3rd Level Consulting offers regularly scheduled webinars on topics of value to your business.
Click the picture to the right to sign-up for current or to receive recordings of past webinars.
Meet The Contributors
The contributors have successfully served children's activity centers, gymnastics gyms, dance studios, cheer gyms and swim schools worldwide for decades.
Recent Biz Buzz Blogs – Click HERE to see full library