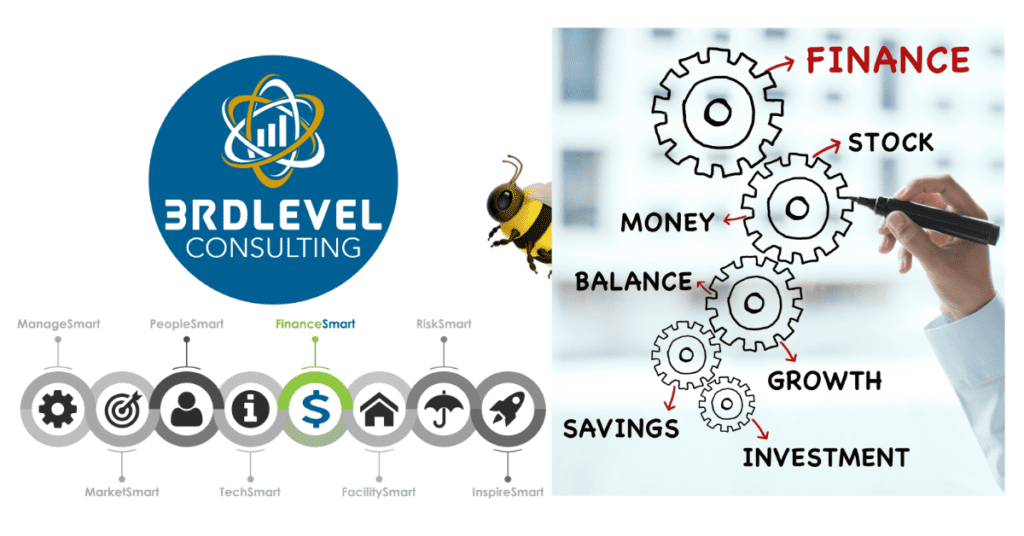 Business Finance 101 – What Every Owner Must Know
Does this sound familiar?  Time keeps flying by, you had plans to get more in touch with your finances and now the time crunch is on for making sure you're financially ready for the next year or even for the end of THIS year!
The good news is that it's never too late to start.
Even if you are behind on important planning, you must start and commit now.
Near the end of each fiscal year, plan to conduct annual reviews to determine if your current choices for business model/structure (LLC, S-Corp, Partnership, etc.), programs and software are still the best choice for your next year.  Examine what you are currently doing versus what is now available and recommended in your industry.  You then get to decide if you want to continue doing what you have been or if changing makes the best business sense taking into consideration the learning curve to make the change.
We will get into financial statements, metrics and overall planning, but let's start with software; Accounting and CRM.
Selecting/Evaluating Your Software
The majority of business owners are using QuickBooks for accounting. Jackrabbit, iClass Pro and Studio Director are a few of the most popular CRM (Customer Relationship Management) systems for Child Activity Centers. It is important that you utilize your software's reporting capabilities to help you make the best business decisions.
If you haven't yet selected your software or are in the market to change, consider these things:
Costs including additional fees
Ease of use
Time-saving features
Reports available
Mobile access and mobile features
Accountant/Bookkeeper/Office access
Service limitations such as; number of customers, invoices, users, transactions
Customer Service and Training
Additional services such as; credit card processing, tax preparation and payroll services
Integration with third-party apps
Customization Options
Frequency of Updates and Improvements
Some examples of reports that you may want to use:
Enrollment Statistics
Class Statistics
Retention
Attendance
Timekeeping
Referral Sources
Past Due Account Tracking
Financial (more on this below)
Determine how much of a do-it-yourselfer you want to be as far as your bookkeeping and know that this can change over time. Evaluation of your level of involvement in your recordkeeping should occur with your annual planning.  Even if you are totally hands-off, you still need to be informed about your finances. Each business needs a financial manager (could be you) but the bottom line is that someone MUST be paying close attention to your business's finances.  Accounting and student management system record accuracy is key to business financial awareness.  3rd Level Consulting has an entire FinanceSmart Master Course as a module in our eLeaning platform.  Interested in learning more?  Click here.
Some critical record-keeping items are:
Logging transactions as timely and as detailed as possible
Accurate equipment purchase records
Monthly reconciliation
Understanding critical statements (details shown below)
When researching software that will work for YOUR business, make sure the built-in reporting options include what you need to make intelligent decisions for the future.
Once you have selected software(s), keeping your transactions and record keeping up to date in your software is essential.  If you still aren't sure about selecting software, we are here to help – just contact us here at 3rd Level and we will help you sort through the options to decide what best fits your business needs.
Financial Reporting Basics – Tying it all Together
Being familiar with your financial statements is critical.  As an owner or manager, you must review your "numbers" each month (at a minimum).  Knowing what is "normal" for your business is cruicial.
As bookkeeping and CRM software is set up and customized for your business, make sure you "match" your CRM program categories to your financial reporting categories.  Use a daily or periodic deposit sheet for synchronizing this process if your software does not do it automatically.
No one report (Balance Sheet, P&L, Cash Flow Statement) tells the entire story of your financial condition. By learning to read and interpret all three statements together, you will get a solid idea of the fiscal health of your business. Basically, the Balance Sheet is a snapshot, the Income Statement is a movie, and the Cash Flow Statement is the result of all financial activities over a given period.
Get in the habit of reviewing these three statements (plus an Aged Receivables Report) on a monthly basis, and you will have a much greater understanding of the movement of money through your organization. Add in a review of your tax returns at the end of each fiscal year for additional comparison and understanding!
Interested in learning more – click here to sign up for our webinar.
Balance Sheet lists the total assets and liabilities of a company. Balance sheets should be  prepared on a monthly, quarterly and annual basis to show the company's financial condition at the time of preparation.
Assets include anything of value; e.g., cash, receivables, furniture, fixtures and equipment, property and inventory that are owned by an individual, business, or corporation.
Liabilities include debts normally secured by a note or lien, loans normally secured by collateral and lines of credit. Lines of credit are generally tied to accounts receivable, inventory, and compensating balances kept on deposits.
P&L (Profit & Loss Statement also known as Income Statement) summarizes a company's revenues, costs, and expenses during a given accounting period. The difference between the selling price of goods and their costs (positive number = profits, negative number = losses).
Cash Flow Statement shows the movement of cash in and out of a business. The timely movement of cash is necessary for a business to pay its bills and remain in operation. Tracking net cash increases or decreases and trends makes for an informed owner. Operating Capital represents the funds necessary to operate the business on a daily basis. Reserve Capital covers operating the business in an emergency situation.
Aged Accounts Receivable Report provides current, 30, 60 and 90+ day balances so you can consistently work on collection efforts. Many businesses experience a cash flow shortfall due to excessive (and generally unnecessary) accounts receivable. Regular and consistent collection efforts will prevent this situation from occurring in the first place! Your company works hard to deliver a quality service – you deserve to be paid in a timely manner. Mortgage and utility companies don't wait!
The Basics on Managing by Percentages
Managing by percentages will free you from the deception of merely measuring gross revenues or gross dollar increases in various time periods. Managing by dollar targets is a sure-fire way to grow programs (or facets of the business) without proper regard for the overall picture!
If all you do is grow top line revenues, how do you know if you are truly generating more profit?
Which would you rather have
a business that generates $250,000 per year with $90,000 in profit or
a business that generates $500,000 per year with $50,000 in profit?
With that in mind, not only does the OVERALL COMPANY need percentage targets, but so does each INDIVIDUAL PROGRAM. Create operating percentages that show BOTH the overall Company AND each Department/Program and/or Facility for established Key Performance Indicators (KPIs) to measure your business.
Compare the selected time period (current month, quarter, year-to-date) side by side for each income and expense category. Line these up year over year in comparable time periods to track seasonal trends.  Often several years may need to be tracked to realize certain cycles such as an Olympic Year for related sports Knowing the Industry Norms will also help you evaluation how you are doing.  3rd Level Consulting can help. Using comparisons will help with understanding what is "normal" and will provide metrics to make the best decisions for your business.
Such percentage targets could include:
Percentage increase in Gross Revenues
Percentage decrease in combined Payroll plus Payroll Taxes
Percentage decrease in Marketing simultaneously with a percentage increase in Professional Development
Percentage increase in bottom line Profits
Knowing your percentages will allow for improved accuracy in planning and budgeting which in turn yields greater success in managing your business. Both Owners and Program Directors need to be aware that while the company may have OVERALL percentage targets, each individual program's targets may vary significantly from your company's overall percentages.
Three of the most important teams to help keep your business systems in place are accounting/finance, legal and business consulting.  By working regularly with all 3, you'll be able to make even better business decisions than you already are.
Paying attention to the financial health of your business is critical to reaching financial success. If you would like assistance with reviewing statements and setting up your KPIs and operating percentages with one of our industry experts, we would be happy to help.  Contact 3rd Level for more information.  Understand your company's financial performance today so you're financially prepared for tomorrow.
3rd Level Consulting offers regularly scheduled webinars on topics of value to your business.
Click the picture to the right to sign-up for current or to receive recordings of past webinars.
Meet The Contributors
The contributors have successfully served children's activity centers, gymnastics gyms, dance studios, cheer gyms and swim schools worldwide for 35+ years.
Recent Biz Buzz Blogs – Click HERE to see full library