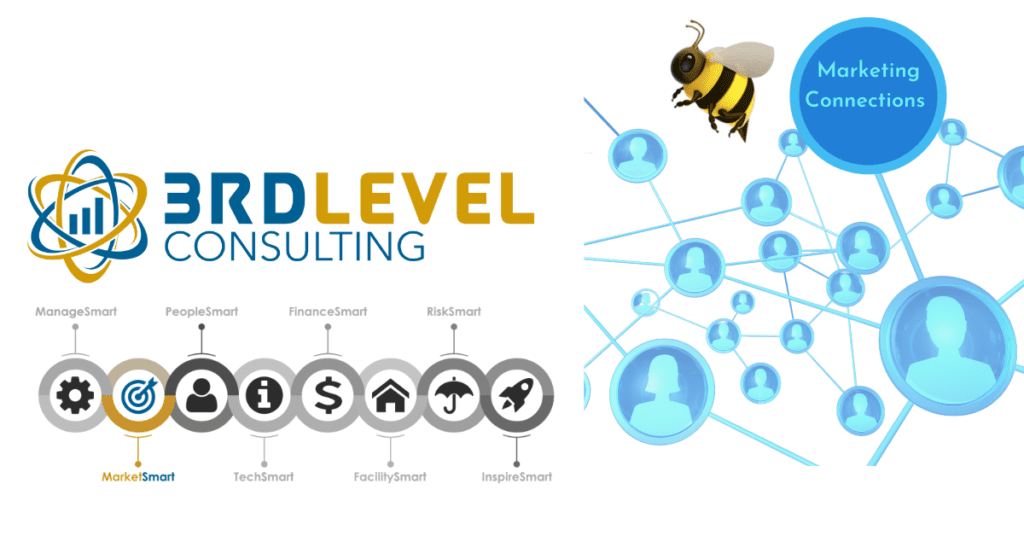 Marketing is a Must!
(regardless of boom or bust)
By definition, marketing is:
the activity, set of institutions, and processes for creating, communicating, delivering, and exchanging offerings that have value for customers, clients, partners, and society at large.
~ American Marketing Association
Some mistakenly think about marketing as only paid advertising, pushing your messaging out, and/or paid promotions.  However, marketing as stated by the AMA is way more than that.  Marketing is about communication and relationship building.  Even if your facility is at capacity, this doesn't mean marketing stops, just the opposite.  Influences on your business are ever changing. Using marketing to connect with all clients – past, present and future needs to be consistent and continuous.  
Given that marketing is all about building relationships, it doesn't start and stop.  That is, unless you really like the idea of constantly "breaking up and getting back together."
So, what are the best ways to build that relationship?
First, you must know the #1 problem you are going to solve for your customer.  You may solve several problems and serve several areas, but each time content or a campaign is planned, the specific problem (that you can fix) must be kept in mind.  Also, ALWAYS keep in mind your top solution to the client's problem for your overall marketing message.
If you're not sure where to start with this, join us for our "Create Your Marketing Message Workshop" to learn how to build your marketing message(s) that will resonate with your customers.
Since we will focus on the more ways to use marketing tools to develop your marketing message(s) in our next blog, Solving the Digital Marketing Puzzle here we are going to elaborate on ways to build those critical relationships and also a few content development tips!  (For even more info on content and social connections check out our next blog!)
To begin developing your Marketing Strategy start with these 3 questions:
Who do you want to connect with?
Where can potential clients find you?
What is your message?
Step 1 – Who do you want to connect with?
The first step in Marketing Strategy is knowing your ideal client. Customer Avatars are fictional representations of your ideal prospect that assist in the strategy and execution of a more targeted marketing campaign. Although fictional, they are based on real data, behaviors, and demographics learned through research, customer interviews and polls. Knowing everything you can about your clients is key to determining where you will ultimately spend your time (and money) on marketing.
When working to identify your ideal client, 4 key segments should be reviewed.
Demographic
Geographic
Psychographic
Behavioral
Demographic segmentation will take into account for your local area items such as age, gender, income level, family size, race religion, education, etc.  Knowing your Geographic segmentation within different radii of your facility(s) is key so marketing can focus within that area.  3rd Level offers a detailed demographic report that provides a wide range of metrics including an executive report and MOSAICS by Experian.
Experian's Mosaic® classifies all U.S. households and neighborhoods into 71 unique types and 19 overarching groups, providing a 360-degree view of consumers' choices, preferences, and habits. The Mosaic classification system paints a rich picture of U.S. consumers and their socio-demographics, lifestyles, behaviors, and culture.
3LC Professional, Premier and VIP Members receive the reports as a benefit of membership. For more information on, 3rd Level Consulting's Market Area Analysis & Demographic Reports, CLICK HERE.
Psychographic & Behavioral will allow you to develop effective campaigns based on your potential clients' traits and feelings.  Psychographic considers the values, goals, pain points, interests and other personality traits.  Behavioral takes into account personal purchasing and spending habits, product loyalty and how the person interacts with purchase opportunities on-line or in-person.  If you aren't sure where to start here, a simple survey to your current customers can provide great insight.
Our 3rd Level Monthly Mentoring on this topic will provide collaboration and thought-starters (and worksheets) for establishing your customer avatar via market segments.  Our Monthly Mentoring is a member's only event.  Interested in learning more about membership? Click HERE.
Step 2 – Where can Potential Clients Find You?
In today's ever-changing world, we are often discovered in more ways than we may realize.  Opportunities to connect are everywhere.  Make sure you are considering all areas of interaction and also consider that others in your organization may be representing your business as well.
Check out this list representing some key ways to interact including; face-to-face, online and other methods.
Face to Face

Your Location
Community Events
Charitable Events
School Events

Online

Website
Google / Search Engine
Social Media Platforms
Advertising
Affiliates

Other

Radio
TV
Billboards
Placemats
Print Ads
Get Creative!  Think about a week in the life of your ideal client, where are they spending their time?  Grocery stores, the gym, golfing…. How can you incorporate your message into their lives?
Step 3 – What is Your Message?
Your message
establishes your reputation.
is more than your paid content
is more than planned online content
is contained everywhere that you can be found
may come from sources that you do not control
Although the last bullet point is by definition beyond your control, it is important to know that personal content both positive and negative can reflect on your business. Educating everyone involved with your organization can help expand the message you want to share.
When thinking about your Face-to-Face Message consider how your organization represents itself within the 4 walls of your facility and in person at public events.  Your Face-to-Face message includes:  Staff appearance, Facility appearance, Student appearance, Customer Service.  How is your company represented both on and off of the clock?
When considering your Online Message, the number of contact points continues to expand.  Let's look at the most common.
Website

What does a person see when landing on your website?
When searching around your site is the message consistent?

Google / Search Engine

What does a person see if they search for either your business or you personally online?

Social Media Platforms

What do your Social Media landing pages portray?
What content do you share?
Where is your business tagged or mentioned?
The "Other" category is generally paid content that you are controlling so the message you are sharing via that avenue (as well as any other paid ads) is known.  To improve your message, join us for our "Create Your Marketing Message" Workshop.
Sometimes inadvertently, a message gets shared that does not reflect the values & culture of your business.   What happens when you (or someone else) make a mistake or error in judgement? Having a plan in place to recover from unintended or contradictory messages is important.  Whether the message was misconstrued or a lapse in judgement,  monitoring your messaging channels and being ready for "damage control" is a necessity.
Your message may be communicated through the many channels that we reviewed above.  Content may be written, audio, video, photo or in-person and could be free, time-based or paid.  Our next blog will cover some of the most effective marketing strategies and how to determine the best way to share your message with your potential clients.
At 3rd Level, we have several options for you to get additional assistance with your Marketing Message, Strategy & all-things business.  If you are looking for a side-by-side business guide, our VIP membership would be ideal.  Otherwise, we have other membership options, that you can compare HERE. Not sure? Click HERE, and we can assist you with the best membership or a la carte consulting option.
Don't forget to sign up for our FREE,  "Create Your Marketing Message" Workshop to learn how to build a clear marketing message(s) that will create a connection with clients.
3rd Level Consulting offers regularly scheduled webinars on topics of value to your business.
Click the picture to the right to sign-up for current or to receive recordings of past webinars.
Meet The Contributors
The contributors have successfully served children's activity centers, gymnastics gyms, dance studios, cheer gyms and swim schools worldwide for 90+ years.
Recent Biz Buzz Blogs – Click HERE to see full library