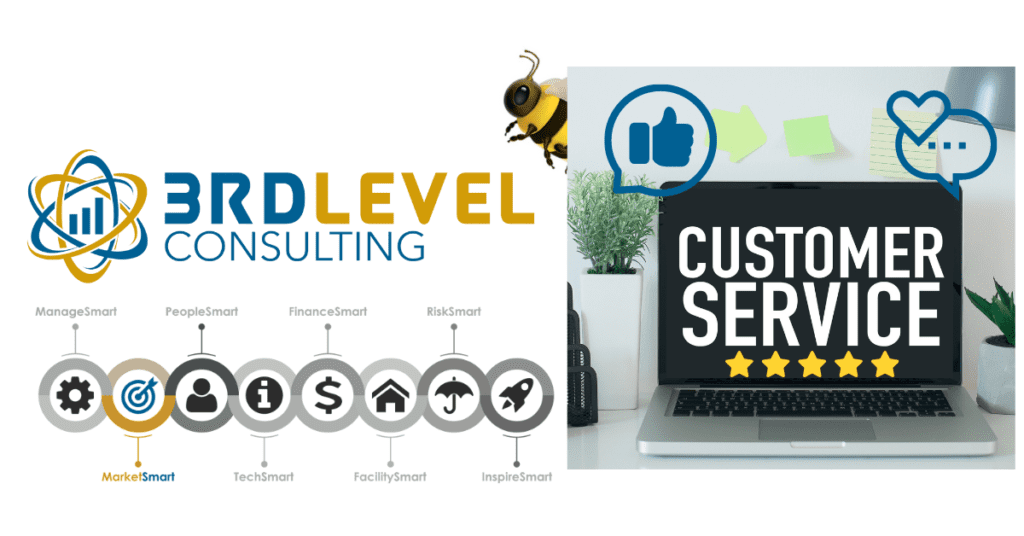 Raising the Bar for Customer Service
Who is your Customer?
Excellent Customer Service is vital to all businesses.  Every industry has unique characteristics that should be taken into account.
The Child Activity Center Industry serves 3 distinct customer groups. 
External Customers = PARENTS who pay the fees
External Customers = STUDENTS who participate in classes and activities
Internal Customers = STAFF who deliver the services
Catering to all three customer groups is the key to retention. Understanding how to prioritize your customers will help create a customer service culture for your organization. Your focus on each customer type depends on individual roles within your organization.
The front office focuses on serving the parents.  Instructors support the students' wants and needs. Managers & Owners most likely wear multiple hats that span all three types, but leaders specifically should have a detailed plan to provide service to the internal customer, the staff.
Knowing and identifying your customers is just one key to success.  In this blog, we focus on the external customers – those who pay for and receive your services. However, keeping your staff happy is just as important because happy staff results in fantastic instruction and smiling front office staff. Check out our Staffing Success Series Blog, "Keeping Employees Engaged and Happy" for ideas and best practices for staff retention and satisfaction.  Our Staffing Success Series includes blogs with tips on finding, hiring, training, retaining, monitoring and mentoring along with webinars.
What does your Customer expect?
If you think about how YOU want to be treated when you are the customer at another business, it is easy to transfer that attitude to your own operations. Consider the possibilities for word of mouth and referrals if you provide outstanding service in all situations.
| | | |
| --- | --- | --- |
| Customer | Customer "Wants" | Business Action |
| Parent | For their children to be guided, taught and celebrated | Provide excellent instruction with highly-trained, enthusiastic staff |
| Parent | To receive great value for the money spent | Provide top-notch value for the time spent in an activity |
| Student | To have fun and learn | Plan activities and experiences that promote learning and FUN! |
| All | To see inviting smiling faces | Put positivity into practice at all times |
| All | To feel welcome, appreciated and important | Engrain a company culture of respect and appreciation |
| All | To be listened to and understood | Educate staff on viewing things  from the customer perspective |
| All | To receive great communication | Establish and utilize systems for clear and effective communication |
| All | Feel like part of a community who knows each other by name | Prioritize learning the names of all customers and families |
Remember these Powerful P's of Customer Service.
Polite
Pleasant
Positive
Professional
Productive
Proactive
Patient
Prepared
Customer service is important in all avenues – face-to-face, on the phone, email messages, etc.  Make every interaction you have with customers cement them as raving fans.  Keeping the Powerful P's top of mind will keep everyone focused on the culture you are cultivating to provide AWESOME service.
A 3rd Level Membership provides access to dozens of eLearning Courses on all aspects of business including Customer Service. Click here to compare our membership levels to see what is right for you. If you aren't sure what membership level best fits your needs, contact us to help figure out the best plan to fit your needs AND your budget.
How to Raise the Bar
Customer service is vital to every organization.  To impress your customers, you must go above and beyond to create an exceptional experience every encounter.
With the ability to leave reviews immediately (positive or negative), wowing your customers the first (and every) time becomes even more important!  When your customers are wowed, this is a win-win as online reviews become excellent marketing. This accessibility can be a double-edged sword as poor reviews can hurt your business.
Customers who have a bad experience are 2 to 3x more likely to write a negative review than customers who had a great experience.
Customers who were initially unsatisfied, but whose issue you solved quickly are likely to become loyal, positive-review-posting customers who trust your business (and will tell their friends about you).
Customer service is just one of a myriad of things organizations can do to remain close to clients and obtain new ones. However, overwhelming evidence states that because of the internet and other technologies, a mishap in customer service may quickly tarnish an organization's reputation. Time is of the essence. Quick resolution can prevent a customer from feeling the need to vent publicly where ignoring the issue can create obstacles to your success and directly impact your bottom-line.
So, what are KEY FACTORS to help your business achieve top-notch customer service?
Start with a Smile – When you're smiling, your "voice" also smiles. Be pleasant and polite to every customer.
Be Patient and Positive – Keep calm, cool and collected in every situation.
Communicate – Make sure your customers are informed and understand your policies and procedures
Respond Quickly – Whether in person, on the phone or via email, connect quickly. Don't keep customers waiting.
Be Professional – Plan the customer journey and know the solutions to meet your customers' needs. Treat all customers equally.
Listen – Give your customers the undivided attention they deserve.
Here to Help Attitude – Adopt a problem-solving attitude when you handle customers' issues, concerns and inquiries.
Show Gratitude and Appreciation – Your customers are important and must feel valued.
Be Prepared – Deliver on your promises & anticipate the needs of your customers. Impress them by providing solutions before they ask.
Also, take the time to think about things from the opposite perspective.  When did you have an experience as a customer that left you disappointed, frustrated or worst of all, no longer a customer?  What happened?  If you were that business, what would you have done differently?  Looking at situations from multiple perspectives, will result in a more all-encompassing customer service system for your business.
What the Future Holds
Customer Service will continue to evolve as expectations grow and technology advances. Many businesses are using artificial intelligence (AI) to gather information about their customers and are utilizing that to improve their customer satisfaction. For example; Disney uses "Magic Bands" which allow customers to make purchases and open their hotel room easily without needing a wallet or keys. "Magic Bands" provide valuable information to Disney about where customers go in the park, how much money they spend and more.
Remember, your goal is to ultimately exceed the expectations of your customers.  What "extras" can you do to make your business stand out beyond the competition? Sometimes simple things mean the most.  Examples; assisting with a crying baby, searching out a parent to let them know what skill or extra effort their child did today or even just holding the door open.  When your customers feel appreciated and "more than a number," they will be loyal for years to come.
The expectations for your Customer Service Culture should be included in your employee handbook, onboarding training and in continuing education. Staff members who go above and beyond for the customer should be recognized. Record examples of great customer service and highlight opportunities for improvement.
"…when you make mistakes and you recover from them and
you treat them as valuable learning experiences,
then you've got something to share."
~ Steve Harvey
Let's take a minute to think about the evolution of the customer experience in the recent years. Customers can register and pay online, view class remotely on video, schedule makeup classes electronically and more. What can you do moving forward to continue to wow them? Setting your plan in place to put your customer at the center of your business focus will help your business stand out and differentiate you from your competition.
At 3rd Level, we are committed to providing excellent Customer Service to our Members. We are dedicated to keeping our finger on the pulse of the Children's Activity Center Industry. We deliver content, services and resources that help businesses grow. Join our community of progressive businesses owners and managers by clicking HERE to set up a meeting to chat about how we can help you meet your business goals
3rd Level Consulting offers regularly scheduled webinars on topics of value to your business.
Click the picture to the right to sign-up for current or to receive recordings of past webinars.
Meet The Contributors
The contributors have successfully served children's activity centers, gymnastics gyms, dance studios, cheer gyms and swim schools worldwide for 35+ years.
Recent Biz Buzz Blogs – Click HERE to see full library