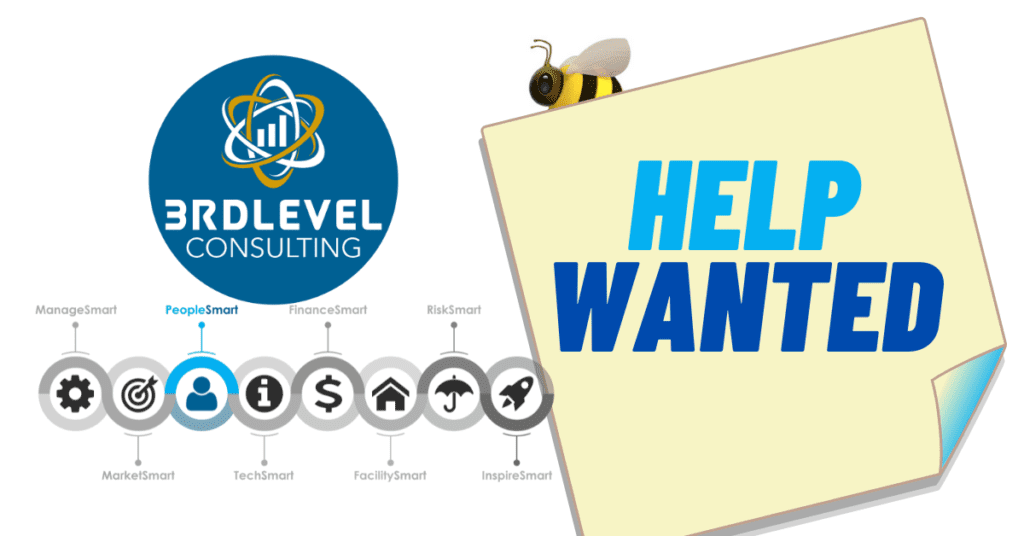 Simple Steps to FIND Exceptional Employees
Finding your ideal employee starts with ATTRACTING candidates that fit your business model, mission & vision. Wouldn't it be FABULOUS to have a waiting list of potential employees who are ambitious and motivated to become part of your staff? Follow the steps below and you will be on your way….
The best run businesses have a list of potential candidates at all times. If you aren't in that position now, keep reading. This article is part 1 of 6 that will help you to find, hire, train, retain, monitor & mentor staff.
The current #1 challenge in all Child Activity Centers, globally, is the ability to effectively Find, Attract and Hire Staff for all positions – especially at the instructional level. The steps shown below will work for ALL SMALL BUSINESSES even though we do specialize in consulting for Child Activity Centers.
To accomplish this … simply follow these four proven steps to FIND the BEST people for open positions in your business. These Steps will get you on track to have potential, qualified employees knocking on your door, ready to get to work.
STEP 1 – IDEALIZE YOUR CANDIDATES
Defining your ideal candidate starts with 1) having a detailed job description for the position(s) you desire to fill and 2) determining the character traits that best fit your operational goals and business model. YOU must know exactly WHO you are looking for or you will not find them. The key in this step is to line up your cultural standards with the character traits that reinforce your core values.
Based upon decades of working with owners and managers in Child Activity Centers these are the Character Traits that have been identified consistently for our Industries. From this thorough list, you should SELECT the ones that resonate with your core values.
Positive / Friendly / Outgoing / Fun / Enthusiastic /Passionate / Energetic / Upbeat
Organized / Professional / Prepared / Learner / Educated
Leader / Take-charge / Go-getter / Decisive / Assertive / Confident / Patiently Authoritative / Entrepreneurial Spirit / Creative Thinking / Strong
Caring / Communicative / Compassionate / Conscientious / Attentive / Flexible
Instructional Skill / Technical knowledge / Safety-oriented / Sport Experience / Financial Aptitude
Reliable / Loyal / Mature / Respectful / Punctual / Dedicated / Observant / Responsible / Team Player / Honest / Trustworthy / Motivated
Example #1: Our ideal preschool coach is energetic, friendly and confident. He or she must be reliable, punctual and prepared. Safety is prioritized while keeping classes fun and instructional. This coach can easily communicate with students, parents / caregivers and coworkers.
Example #2: Our ideal weekend front desk person is friendly, conscientious, mature, observant and a team player.
Your Job Descriptions should be detailed specifically for the positions. The Job Descriptions will become Position Agreements and should be used for evaluations. Your Employee Handbook will include items that apply to everyone in your organization. Sample Job Descriptions (along with other Hiring documents) can be downloaded here.
STEP 2 – CREATE ATTRACTIVE HIRING ADS
The next step is to create an attractive eye-catching ad that you will use in various formats to post the position.
Your ad should include several items such as:
Character Traits
Benefits
Position Specific Requirements
Pictures
Your Mission
Example
Join our Team! Our goal is to make a difference in the lives of our students, the families in our program and our community. If you love working with children and would like to be a part of a growing and influential program with room for advancement, apply now.
Part to Full Time Instructor / Coach with opportunity for advancement.
We are looking for upbeat, motivated and organized individuals that have a passion for working with children. Gymnastics background is preferred but not required for all positions. Training will be provided. Evenings and weekends required. Travel may be required for competitions depending on the position.
We Offer:
Comprehensive PAID in-house training program
A clean 20,000 sq ft facility including trampolines and in-ground pits
Paid vacation hours, bonuses and more (to qualified staff)
Pre-school, Recreational, Xcel, DP Boys and Girls through Level 10
Opportunity to advance within the program.
Requirements:
Background check
Reference check
Positive coaching philosophy
Enthusiastic / High Energy
Organized
Ability to work independently and with a team
Physical ability to lift approximately 100 lbs
Reliable and punctual
Professional and mature
Strong communication skills
A full color version of this ad example can be downloaded here.
If you would like help with the entire hiring process, we can help! 3rd Level has a fully integrated application for hiring called HireSmart. Interested in learning more about this resource and other staffing solutions? CLICK HERE
The HireSmart system provides you with a complete end-to-end solution for hiring, screening, and assessing
the best candidates for your business or organization.
Before posting your eye-catching ad that is going to draw several qualified candidates, MAKE SURE to do a quick review of your job application and other items required to apply such as a resume, references, etc. Make sure your application includes enough detail to allow you to select the best candidates to interview (Step 4).
STEP 3 – POST TO ALL HIRING SOURCES (check out our list)
Identify your hiring sources, and post to a variety of places. Remember to utilize Referral & Internal Sources along with Outside Sources. You want to have a large sourcing funnel to attract and find your Ideal Employees.
Outside Sources
Craig's List
App Style such as: Monster / Indeed / Confirmed / Seek.com (Australia) / ZipRecruiter
Facebook Groups (ex: Gymnastics Coaching Jobs 15.8K members)
LinkedIn
Trade Association Resources /Classifieds
University Job Boards / College Interns

Education
Physical Education
Sports Admin / Business
Early Childhood Development

Child Care Center workers Care.com
School Teachers (especially for Day Camps)
Chamber of Commerce
Co-op Program with Local High School
Referral Sources
Existing Staff Referrals
Your Web Site / Internal Newsletter/Email
In conjunction with Program Ads
Alumni (returning student / staff)
Walk-In's
Referrals from High School Athletic Coaches
Existing Clientele (Parents / Grandparents)
Former Clientele (Athletes / Parents)
Internal Sources
Young Instructor/Coach In-Training (Jr Leadership) – excellent for teenagers vested in your program
STEP 4 – SELECT THE BEST CANDIDATES TO INTERVIEW
Organize the submitted Job Applications. The first step is to review of all applicants and filter them into 1 of 3 categories:
* Set up Interview * Maybe Interview * No need to Interview (not a good fit)
Filter them into one of the 3 categories determined from your initial review for interview candidates (YES, MAYBE, NO). Document the reason such as – not available the hours needed, not qualified, etc.
Then, for those candidates that are a resounding "no" in your criteria, send a polite thank you email and get ready to move on to a more detailed filter. If they are lacking only in one criterion such as availability, you may want to note that in the email as if they really desire to work at your business, they may make adjustments to their schedule.
For the Applicants that are in the SET UP INTERVIEW or the MAYBE INTERVIEW categories, you will then rank them on a simple grading system. Using a point system is generally the most effective. If someone is on the cusp, they can always go at the half point (1.5, 2.5, etc.) List the Required Items First and the Desired Items Second on your chart. Rank each candidate based on your selected rating system (points, letter, etc.)
IN SUMMARY
IDEALIZE the traits of your candidate
CREATE attractive hiring ads
POST to as many relevant hiring sources as possible (many are FREE)
SELECT the best candidates to interview / filter the others
The next BizBuzz Blog will focus on HIRING Exceptional Employees starting with conducting an effective interview.
REMEMBER THE BEST Businesses / Employers are ALWAYS:
Finding, Attracting and Hiring
Onboarding and Training
Monitoring, Inspiring & Mentoring
We at 3rd Level are here to help you grow and succeed.
To sign up for a FREE 3 Part Staffing Success Workshop Series
If you want to talk to one of our experts now to get on the road to Staffing Excellence, we would be thrilled to help. 3rd Level has several tools that benefit every business. We offer memberships that include tools for Management | Marketing | Staffing – Human Resources | Technology | Finance | Facility | Risk | Inspiration. Specific to this topic, our HireSmart system provides you with a complete end-to-end solution for hiring, screening, and assessing the best candidates for your business or organization. Click HERE if you would like more information on memberships.
Our Staffing Success Blogs and Workshop Series will provide the steps to help you create your own system for FREE! But sometimes, you don't have the time to do it all yourself. If you want a customized "done-for-you template," just let us know by clicking HERE. 3rd Level's HireSmart system provides you with a complete end-to-end solution for hiring, screening, and assessing the best candidates for your business.
HAPPY HIRING!!
3rd Level Consulting offers regularly scheduled webinars on topics of value to your business.
Click the picture to the right to sign-up for current or to receive recordings of past webinars.
Meet The Contributors
The contributors have successfully served children's activity centers, gymnastics gyms, dance studios, cheer gyms, swim schools and child care centers worldwide for 35+ years.
Recent Biz Buzz Blogs – Click HERE to see full library