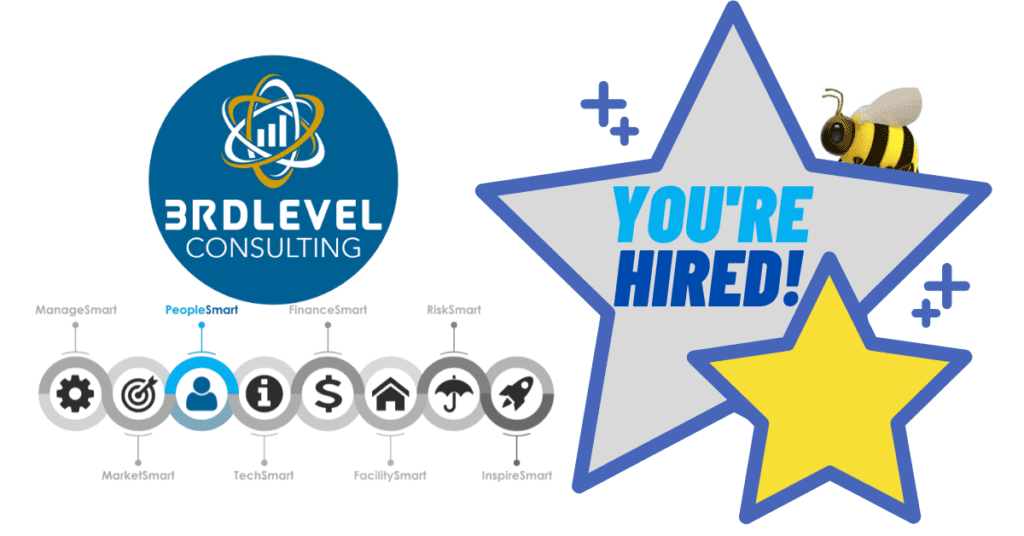 Simple Steps to HIRE Exceptional Employees
Hiring your ideal employee starts with knowing how and where to find the best candidates. Not sure where to start when it comes to finding candidates?  Check out the first blog in this 6-part Series, Simple Steps to FIND Exceptional Employees.
Wouldn't it be FANTASTIC to not only have a large waiting list of potential employees, but also to have a HIRING plan that ensures the RIGHT candidate is selected for the position you are looking to fill?
This article focuses on the hiring component of our Staffing Success Series.  This series will help you to find, hire, train, retain, monitor & mentor staff.  Steps 5 through 8 will take you from inviting potential candidates to interview through to the employment offer.  (Steps 1 – 4 can be found HERE.)
The current #1 challenge in all Child Activity Centers, globally, is the ability to effectively Find, Attract and Hire Staff for all positions – especially at the instructional level.  The steps shown below will work for ALL SMALL BUSINESSES even though we do specialize in consulting for Child Activity Centers.
To accomplish this… utilize these eight simple steps to structure your hiring plan. These steps put you on the path to not only hire exceptional employees, but also simultaneously create a waitlist of potential, qualified candidates that will be a good fit for your company when the time is right.
STEP 5 – INVITE, SCHEDULE AND CONDUCT ROUND 1 OF INTERVIEWS
You have already filtered and ranked your applicants (Step 4).
Next step is to create 3 folders (electronic or real) and label those folders.
Folder "A" will have the top-notch candidates that you without a doubt want to interview.
Folder "B" will contain applicants you may want to interview depending on your current needs.
Folder "C" will include the applicants whom you have already responded to with a polite 'thank you for applying' but not a good fit at this time.
If you have not already created a list of people that if they were available you would love to work with, do so now!  These "wish list" ideal staff members will come from your Referral Sources listed in Step 3 of the corresponding "Find" Blog).   Add these people to Folder A. Make personal contact with each person to mention that you're hiring and request that they fill out an application for if/when they do become available in the future so you can keep them in mind to reach out when future positions come available.
The next step will be to determine the type of interview(s) you wish to perform and scheduling of the interviews.
Determining the type of interview depends on several factors such as cost, time and level of position.  You may decide to do a phone interview, a face-to-face or live Zoom individual or small group interview or a video interview through a service like Hirevue (video interview that the candidate records within a set time period of receiving the email link).  Check out our downloads for more ideas.
IMPORTANT NOTE
IF you are NOT planning 2 rounds of interviews,
reading this section is still important. 
The interview questions in this section will be combined
with those in Step 7 that are part of the second interview.
Assuming you will have two rounds of interviews, we recommend standardizing the interview questions so regardless of who conducts the first interview the candidates will all be asked the same pre-selected interview questions. This consistency will allow for a more objective comparison of the candidates.  Preparing a method for side-by-side comparison of interview responses will need to be set up ahead of time (more about this comparison in Step 6). This will allow you the best insight on determining who to invite to the more personalized and lengthier second interview.
Remember, YOU are getting interviewed too.  The superb candidates will be prepared and will also be judging the interviewers as they are getting interviewed.
Because you want to be most objective in this round, we recommend doing all interviews as close together as possible.  Schedule the interviews over no more than 2-3 days so you can most accurately evaluate the responses.
Tips for scheduling:
Be organized – review candidate's application and any notes
Be on time – greet candidate(s) and give a short tour (if face-to-face)
Reserve a quiet space for the interview
If scheduling face to face, stick to a time limit with just a few minutes before the next interview for making notes.
Bring the interview to a close by asking the applicant for any remaining questions, feedback on when they will hear back and a thank you.
Keep in mind that you want to select 3-4 straightforward questions that are easy to rank objectively in Step 6.
Here are some Example Interview Questions for you to choose from:
Why should we select you for this position?
What skills and experience do you offer for this role?
What is something you have done that made you proud?
What is your favorite age group to teach? Why? What is your least favorite? Why?
What are your top strengths?
Describe your friends.
Tell me about your last manager.
What are your short term and long-term professional goals?
What do children want most from class? What do parents want most from class?
In what areas do you feel you need to grow the most?
What motivates you? What bores you?
STEP 6 – REVIEW INTERVIEW #1 RESULTS
After you have completed the First Interview with YOUR Standardized questions, now it is time to "grade" applicant responses.  These responses may change the rating aka "folder" for your applicant.  This is where it is important to use your system (most likely a spreadsheet) to compare answers among the candidates.
If the interview is live, some type of grading while interviewing is recommended with an immediate review after all candidates.  Interviews should be set close together so responses (if they are not recorded) are fresh in your mind. Grade each response for each applicant on the same question before moving to the next question.  The assessments should be completed as soon as possible after each group of interviews and then reviewed a final time after all.  Doing this effectively, will give you a clear vision on who to offer the more personalized and lengthier second interview. Recategorize each candidate into your A/B/C Folders.  These folders will have the same meaning but now apply to the second and most likely final interview.
If you want customized help with setting up a process to review/grade the interview results, 3rd Level is here to help.  Our consultants can guide you every step of the way or just assist with the trouble spots, it's up to you.  Click HERE to contact us.
STEP 7 – SCHEDULE SECOND (or First) INTERVIEW
Depending on the number of candidates in each "folder" and the number of positions you wish to fill, decide who you will invite to the final interview.  Things to remember – invite enough candidates that you will have a backup (or 2) should your top candidate decline the offer.  In the second and final interview, plan for at least 5 (up to 10) questions.  If you are merging into only one interview, combine the type of interview question in Step 5 with those shown below.
A face-to-face interview (in person or video) with at least 2 staff members is recommended.  Those doing the interview could be peers or managers. Again, use a specific rating system for interviewers to use for evaluation.  Recommended length is 40-45 minutes with 15 minutes for questions.
For this more in-depth interview, at least half of the questions should use the STAR (situation, task, action, result) interview method to assess responses.  Determine what character traits you most want to assess in the final interview such as interpersonal skills, problem solving, integrity, customer service, etc. Formulate your STAR questions around each trait you want to evaluate.
STAR Interview Question Examples:
Tell about a time you had to make a difficult decision.
Tell about a time you accomplished a goal and/or were successful.
Tell about a time when you originally had planned one way to complete a task, but ended up doing it a different way
Tell about a time that you experienced a failure
Tell about a time when you did something one way but wished you did it another
Give an example of when you had to learn and use new skills.
Tell about an occasion when you disagreed with a manager
STEP 8 – MAKE OFFERS! – HIRE
Now it is time to NEGOTIATE AND PLAN YOUR NEXT STEPS (generally a probationary training period).
Prepare your offers – make sure to include a total compensation package that includes a monetary amount assigned to each benefit and to include the fantastic benefits that a monetary amount cannot be assigned.
Total Compensation Package Calculation Sample
$17           Hourly Rate
x 20            # Hours per week (at 48 weeks/year)
$16,320
40            Vacation Hours per Year
x $17          Hourly Rate
$680
$500           Average Annual Bonus Pay
5            Paid Holidays (at 8 hours)
x $17          Hourly Rate
$680
Average Annual Compensation
$16,320 + $680 + $500 + $680 = $18,180
Other Financial Benefits would each be added into the formula above based on an annualized amount.  Example:  If Health Insurance is a paid benefit at $200/month paid by your business, that would be another $2400/year when showing the total compensation package.
Other Financial Benefit Examples:
Program Tuition Discounts (% off)
Private Lessons (percentage/splits)
Educational Opportunities (paid Congress – LEAP access…)
Health / Dental / Vision Insurance
Life Insurance
Workers Comp
Child Care
Staff Dinners / Parties / Outings
Retirement account
Items that are a great perk but can't put a dollar amount on: PRICELESS…
Changing the lives of children
Being one of the most influential teachers in a child's life
Getting to be active on the job (get your steps in)
Going to work where everyone is glad you are there (celebrity status)
You can create your own hiring system utilizing the steps above and adapting suggestions from the FREE download folder HERE, OR if you want to work with a business coach to customize and implement a complete solution for YOUR business, 3rd Level can help!  Click HERE and we can work with you to provide a complete end-to-end solution for hiring, screening, and assessing the best candidates for your business.
3rd Level Consulting offers regularly scheduled webinars on topics of value to your business.
Click the picture to the right to sign-up for current or to receive recordings of past webinars.
Meet The Contributors
The contributors have successfully served children's activity centers, gymnastics gyms, dance studios, cheer gyms, swim schools and child care centers worldwide for 35+ years.
Recent Biz Buzz Blogs – Click HERE to see full library